The Perfect Storm that Left Digital Air Cargo in its Wake
COVID-19 upended nearly everything, but especially air cargo. By February 2020, reduced travel saw a 50% decline in capacity. Demand increased more than ever, along with dramatic fluctuations, and productivity was challenged by working from home. Traditional rate sheets were torn up (okay, deleted) and by the time capacity and price was secured and relayed to a shipper, it was obsolete.
While challenging, this became the perfect moment for forwarders and airlines to eradicate the offline processes that had long been eliminated from passenger travel.
How COVID-19 drove digital air cargo adoption
Airlines began turn to air cargo to boost revenues. And given the rapid pricing fluctuations, the appeal of digital to make this happen was higher than ever. In a recent interview, an Air France-KLM executive described how online booking brought a one-two punch driven by both expediency – no customer support representatives were available – and improved customer experience.
It worked – surprisingly well. According to Guillaume Halleux, Chief Officer Cargo at Qatar Airways, digital air cargo booking  was "playing a key role in growing our revenue and utilization while reducing cost of sales and disputes."
Innovation became a tailwind for both sides of the equation. For forwarders, saving time became a primary benefit. This "allows us to reach multiple airlines in under a minute for real-time capacity and pricing, and eBook those rates immediately," says Bernd Grun, Global Airfreight Operations and Implementation Manager at GEFCO.
The customer experience also improved, dramatically.  "Comparing airline rates instantly – where you're able to offer it to your customer and book it immediately – is a game changer," says Quim Sanges, Import/Export Coordinator at Deltacargo, a Spanish forwarder.
The underlying change
Digital Air Cargo is, at its heart, a new air cargo booking model. It represents true innovation by stepping beyond internal technology stacks, and bridging organizations digitally. Interorganizational relationships can now be augmented by digital interactions.  From shipper to forwarder to carrier and back again, information can flow better, bits that impact how boxes are shipped.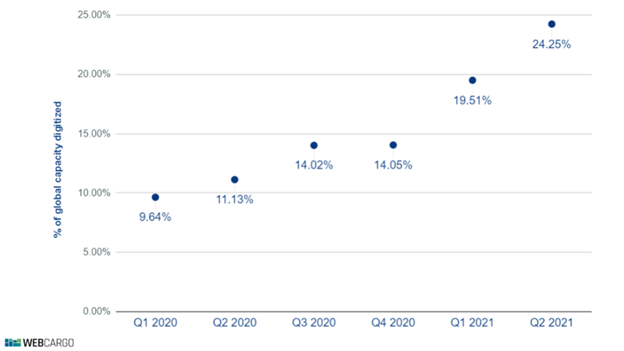 Digital air cargo started in 2018, and by the start of 2020, nearly 10% of global air capacity was available online. But the COVID adrenalin shot saw that more than doubled to nearly 25%. Airlines such as Qatar Cargo, Turkish Cargo, Etihad Cargo, Nippon Cargo Airways, SAS Cargo, Finnair, IAG and others all joined the digital air cargo revolution. For comparison, it took eAWBs six years to reach the 25% adoption mark.
Where do we go from here
Digital air cargo is still a work in progress.There's ways to go with commodity classification and further granularity on shipment types. And there's still so much global capacity that is not yet available online at all. But we're bullish on digitization. And so are the numbers. On WebCargo Sky, eBookings grew 1200% between January 2020 and 2021.
One key takeaway from this? Airlines and forwarders have invested decades in internal innovation. Don't keep it inside. It's high time to explore how to extend and connect that efficiency to the outside, passing on the benefits to your customers. It works.