Advocating for the use of dynamic load factors
TIACA calls for the air cargo industry to adopt the dynamic load factor methodology, developed by CLIVE Data Services, in addition to the traditional weight-based load factor indicators. Taking into account both volumes and weight, the dynamic load factors give a better view on how air cargo capacity is being utilized.   
More on dynamic load factor methodology (pdf).
TIACA provides its members with dynamic load factor analysis through monthly economics briefings and regular Economics4Cargo webinars exclusive to TIACA members.
Monthly Economic Report
TIACA launched a monthly airfreight economic briefing provided by CLIVE Data Systems with a focus on dynamic load factor results in air cargo.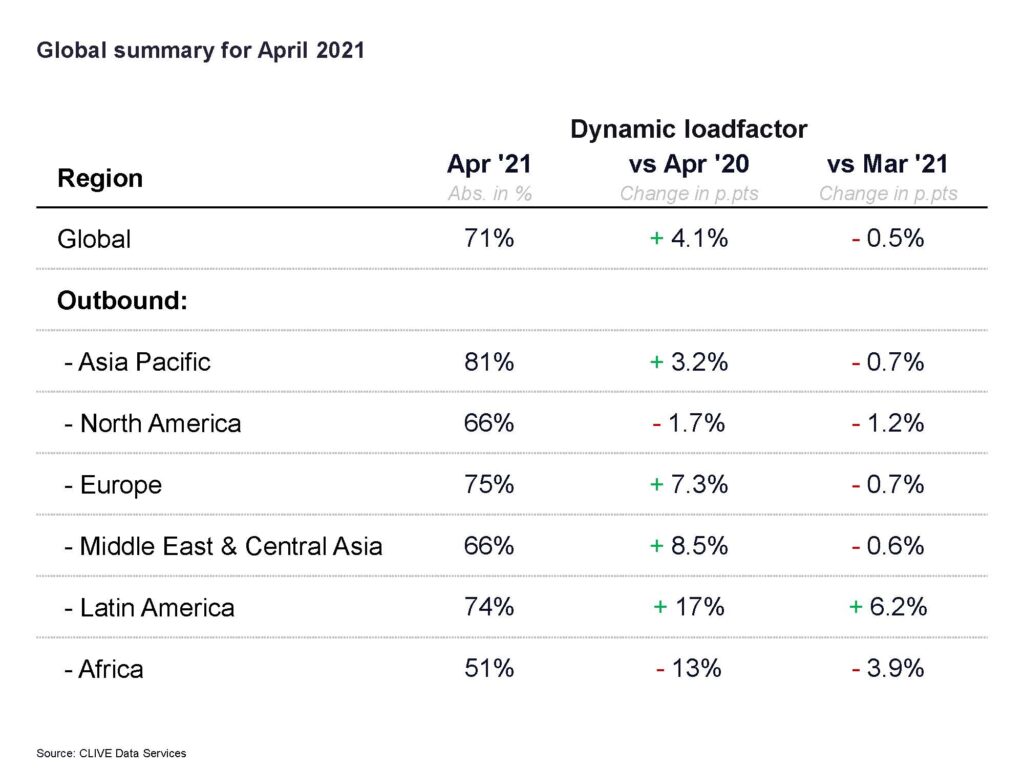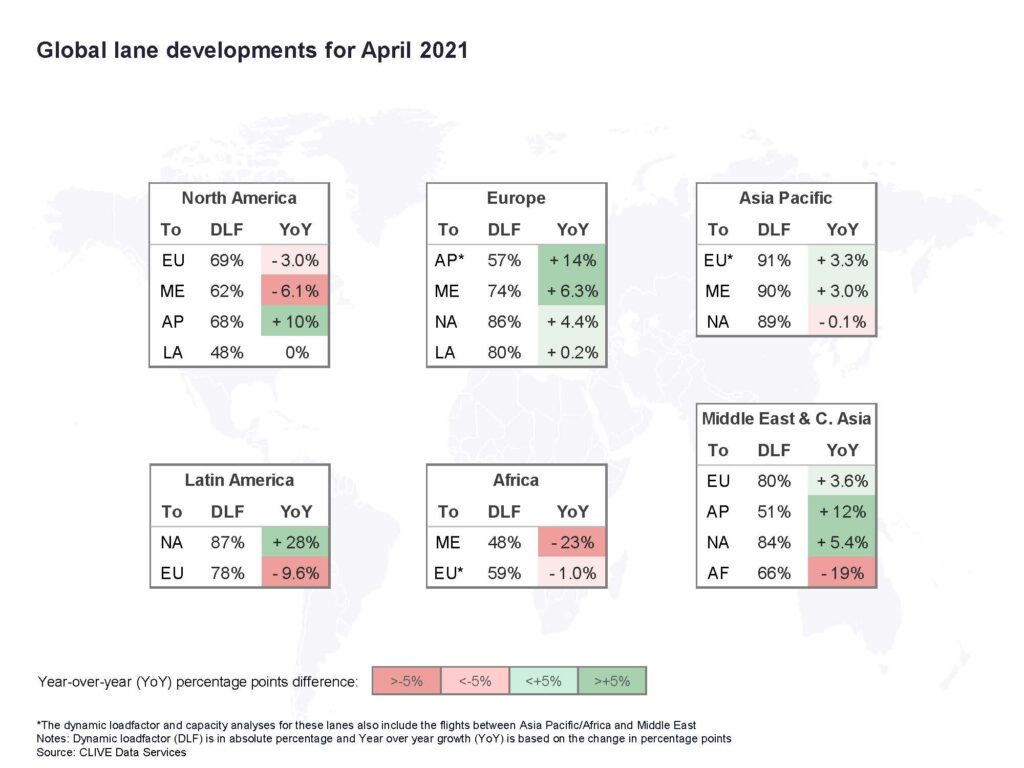 Global air cargo demand bounced back into growth in April after a -3% dip in March, with high load factors keeping the international airfreight system under significant strain as the traditional surge in summer capacity has so far failed to materialise for a second consecutive year.    
CLIVE's weekly and monthly air cargo market data shows volumes in April up 1% over April 2019 and +78% compared to the same month of 2020, continuing the positive trend seen in the opening two months of this year. The second half of April 2021 showed particularly strong year-over-year growth, up 6% versus 2019. 
To provide a meaningful perspective of the air cargo industry's performance, we continue to focus on comparing the current state of the market to pre-Covid 2019 volume, cargo capacity and load factor data until at least Q3 of this year. This is being produced alongside the 2020 comparison.
Despite the similar volumes as in April 2019, the pressure on available airline cargo capacity is much higher. Overall capacity was , down 18% versus 2019 as the increase in belly capacity seen then and in previous years, as airlines increased from winter to summer schedules, remained grounded due to continuing Covid restrictions on international passenger movements. Consequently, CLIVE's 'dynamic loadfactor' for April of 71% – based on the volume and weight perspectives of cargo flown and capacity available – was 10% pts higher than in 2019 and 4% pts above the level of a year ago.
"The air cargo market shifted gear again in April. The month-over-month change from -3% to +1% is quite a jump, but a dynamic loadfactor of 71% represents a tremendous strain on the air cargo system. This lack of bandwidth capacity-wise is being exacerbated by the fact there is no summer schedule based on passenger demand, which is contributing to the high rates being reported in the market," said Niall van de Wouw, Managing Director of CLIVE Data Services. He added: "Airlines operating 'preighter' services need these rates in order to operate cargo-only operations because the margins on these services are very thin."
China to Europe volumes were 18% higher in April 2021 than in 2019, with load factors ex China at 95% or 'completely full', he said. Despite a 10% drop in volumes from Europe to North America compared to 2019, CLIVE's latest data also shows the fall in capacity of around 40% on this lane, resulting in a dynamic loadfactor at 87%, 21% pts higher than in 2019. The decline in North America to Europe volumes is less pronounced at -4% versus 2019, producing a load factor of 69% or 19% points higher than in 2019.
Get access to exclusive economic briefings
Monthly Economics4Cargo webinars run by TIACA and CLIVE provide a global and regional overview of our industry. Interested in a preview of a webinar or sponsoring the next one? Contact Kenneth Gibson below for more information.