TIACA's leadership team has been rolling out a new vision for the Association, focusing on a forward-looking approach to representing, supporting, and informing every element of an efficient, modern, and unified air cargo industry. As part of this, TIACA has recently appointed five new members to its Board, growing both the global outlook and the breadth of industry knowledge in the Association. We asked the new Board members to introduce themselves and share some thoughts on their ideas for TIACA.
BERTRAND SCHMOLL, ECS Group Chairman
The first General Sales and Service Agent (GSSA) representative to be elected to the Board, Bertrand Schmoll holds a master's degree in economics and spent 14 years with price water house Coopers before joining ECS Group as Chief Financial officer in 2000. He was promoted to Chairman and Chief Executive officer of the Group before the positions were split in 2017. He currently serves as Chairman of ECS Group.
Schmoll shares the view of TIACA's leadership team of Sebastiaan Scholte, Steven Polmans, and Vladimir Zubkov in feeling that the air cargo industry has a low public profile, something that may hinder future talent being lured to the sector.
"We need to open this industry to the outside world and have more young, well-educated people joining the industry," he said.
"The new generation is arriving on the market and they have a different way of working. if we want to attract young people, we must modernize."
His hope is that the air cargo industry will adopt new tech. if it appears innovative, he believes, the younger generation will come. During his time on the Board he hopes to raise the profile of TIACA in the air cargo industry. The opportunity to participate in the "fostering influence" of TIACA in guiding the industry was what drew him to the position.
TIACA has a key role – to convene people, to spark discussions that will ensure the continued health of the air cargo sector going forward. I do not know of any other organization like that.
DR KHALFAN AL SHUEILI, Chief Executive officer (CEO) of Oman Aviation Services
Volumes of air cargo doubled in the Sultanate of Oman between 2013 and 2018. This was in no small part down to the efforts of Dr Khalfan Al Shueili, who was leading readiness operations for the Oman Airports Management Company during a period when five new airports opened in the Sultanate.
Recently installed as a TIACA Board member, Dr Khalfan Al Shueili is currently the CEO of Oman Aviation Services (OAS), based at Muscat Airport, Oman.
OAS signed a Memorandum of Understanding (MOU) with TIACA last year, pledging to work together with the Association to promote air cargo growth in the Middle East.
"We see a lot of investment in our region in cargo development," he said.
"As well as the three or four air cargo facilities in Oman, in the region we have seen expansion in Dubai, Bahrain, Kuwait.
"Everyone is using aviation to enact a transformation of their economies."
It is this local knowledge that Dr Al Shueili hopes will add value for TIACA's Board. Alongside the International Civil Aviation Organization (ICAO) and Airports Council International (ACI), he sees TIACA as an essential "third pillar" in a triumvirate of organizations with global reach with which Oman wishes to have strong connections.
And with new, state-of-the-art facilities in place in Oman, by joining the Board, he is looking to learn from those players from other countries who are more advanced in their air cargo development.
"We will be able to join hands with key players – the Board members – in enhancing cargo operations, promoting best practices and discovering what is required by other players such as the freight holders and manufacturers.
"It will help us to catch up with all of this development."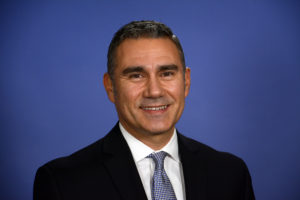 EMIR PINEDA, Aviation Trade & Logistics Manager for the Marketing Division of the Miami-Dade Aviation Department
Emir Pineda started out as an intern at Miami international Airport in 1988 and, after stints at Dallas Fort Worth Airport (DFW) and AirFrance KLM, he returned to Miami 20 years later to work for CargoLux, managing commercial route development in Central and South America.
He is currently the Aviation Trade & Logistics Manager for the Marketing Division of the Miami-Dade Aviation Department, which operates Miami international Airport (MIA).
MIA is recognized as the world's largest gateway to Latin America and the Caribbean, handling 83% of all air imports and 79% of all exports to/from the region, and Pineda hopes he can contribute to getting more of the region involved in TIACA.
Alongside that, Pineda is interested in helping TIACA promote a future-proofed logistics industry.
"Innovation is the way forward, whether it is e-commerce, drones or Artificial intelligence (Ai). All of these things are affecting our industry at an unprecedented level.
"TIACA is leading the push to bring innovation to logistics, which, traditionally, has been slow to catch up. I want to accelerate that."
He was interested in joining the Board because of the unique nature of TIACA. Unlike other logistics organizations that solely represent trucking or freight forwarders, for example, TIACA covers the whole air cargo supply chain.
"That puts TIACA in a special place because it tries to bring all parties to the table to address the challenges that we all face.
"That is not an easy thing to do and I want to be part of that."
NEEL JONES SHAH, Global Head of Airfreight, Flexport
Responsible for building up global air cargo delivery capabilities for freight forwarder Flexport since 2017, Jones Shah returns to the TiACA Board for a second stint, having previously served from 2011 to 2012.
He joins with almost 20 years of experience in the aviation and transport industry.
"I am at a freight forwarder in Flexport that is at the cutting-edge of technology and doing things differently in this business, and i would like to see some wholesale changes," he ssaid Jones Shah.
"Our industry needs to evolve, to adopt new technology and embrace new ideas, but unilaterally you are not going to get a thing done in this business.
"Every stakeholder in the air cargo industry has a seat at the TIACA table. It is important because it is the only organization that does that.
In addition to his role at Flexport, Jones Shah currently sits on the Board of Directors of Amerijet International Holdings, and is a Senior Advisor to The Boston Consulting Group.
He previously worked as Senior Vice president and Chief Cargo officer for Delta Air Lines, as well as Vice president of Sales and Marketing for United Airlines.
"I bring this cross-functional set of experience to the table that can benefit TIACA.
"I have empathy for two of the major stakeholders: the airlines and the freight forwarders. not a lot of people have that background – I appreciate everyone in the supply chain."
TURHAN ÖZEN, Chief Cargo officer of Turkish Airlines and the Head of the Turkish Cargo Brand
Starting his career in 1991 at IVECO, Turhan Özen joined TNT Logistics in 2000, eventually taking the position of Distribution operations Group Manager and operations Director.
He went on to join CEVA Logistics in 2007 before joining Turkish Airlines in December 2016.
Özen has an extensive knowledge of the territories surrounding Turkey, having overseen business development in the Balkans, Middle East, and African regions.
"With a sizeable and impressive new airport, Turkey is set to become a major aviation transport hub between Europe and Asia," said Sebastiaan Scholte, Chairman of TiACA and Chief Executive officer (CEo) of Jan de Rijk Logistics.
"Because Turhan will be present on the ground as this major project works towards completion, his insight will prove invaluable to the TiACA Board and its members."
Earlier this month, Turkish Airlines moved all operations from Ataturk Airport to the new Istanbul Airport, an undertaking called the 'Great Move' by the airline.
The new airport, due for completion in 2027, will be the busiest hub in the world, with six runways boosting capacity for cargo.
"The air cargo industry requires effective leadership to manage the changes demanded by continuously diversified customer needs," said Özen.
"That leadership needs to be the clear manifestation of the common will to enable us to establish well-functioning processes and a sustainable future vision.
"I believe that my Board membership at TiACA will contribute to this leadership in terms of a positive way for the change, and for the development of the international air cargo sector.