TIACA Board Member
Chief Executive Officer, Kale Logistics Solutions Private, Ltd. 
Amar is an accomplished professional with over 20 years of experience in supply chain, consulting and technology industries.
He is appointed as the Domain Controller of Cross Border Domain at United Nations CEFACT. He is on the panel of trade facilitation experts at UNECE (United Nations Economic Commission of Europe). He has been elected to represent the technology domain in the air cargo industry on the Board of Directors of "The International Air Cargo Association (TIACA)" headquartered in Miami, Florida. This association presents the voice of the global air cargo industry to the regulators. He is the youngest Board Member and the first from technology industry to be appointed on this prominent global industry association's board.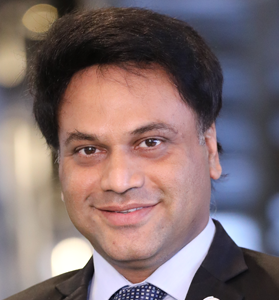 Amar's passion is to bridge the technology gap between the developed and developing logistics industries globally and his talented and passionate team at Kale Logistics has developed disruptive new generation technology solutions for the logistics industry which are transforming the industry and raising the levels of technology adoption in the SME sector of logistics industry in India & Globally. Their work has received global accolades from several international forums as being the "Best Technology Provider to the Logistics Industry" for last 7 years. Amar also assists several governments on conceptualizing trade facilitation initiatives to usher in "Ease of Doing Business" using digital technology.