TIACA Board Member
Chief Operation Officer, Gateway Services, SATS Ltd. 
Mr. Bob Chi is the Chief Operating Officer, Gateway Services of SATS, where he is responsible for the operations across all Gateway Services operational units, covering cargo handling, passenger services, baggage and ramp handling as well as security services. He joined SATS in August 1988 and brings with him more than 30 years of experience within SATS, including Cargo Operations, lnflight Catering, Ground Handling Marketing, Cruise Centre management and Low-Cost Carrier operations. He was promoted to his current position in March 2020. Prior to this, he was Senior Vice President, Sales & Marketing and was responsible for Airline Ground Handling contracts in Singapore ( covering Passenger services, baggage and ramp handling, cargo handling as well as security services). He also manages key accounts for Ground Handling within the SATS network. Mr. Chi was also the Chief Executive Officer of SATS-Creuers Cruise Services Pte. Ltd., where he was responsible for the management of the cruise terminal at the Marina Bay Cruise Centre Singapore. Mr. Chi was also Vice President, Cargo Services, where he managed a total of six airfreight terminals (including an Express Courier Centre, an automated eCommerce AirHub Centre and a state-of-the-art Perishable Handling Centre), with the total handling capacity 2.1 million tonnes per annum. He was instrumental in setting up SATS Asia-Pacific Star Private Limited, a wholly-owned subsidiary of SATS, which provides Ground Handling and lnflight Catering services to low-cost carriers at Singapore Changi Airport.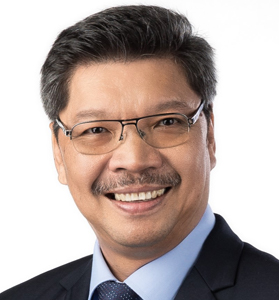 Mr. Chi sits on various boards of SATS' subsidiaries and associated companies, such as Tan Son Nhat Cargo Services (TCS}, our joint venture company in Vietnam, TRANSOM SATS Cargo, our joint venture company at Oman's Muscat International Airport, SATS Seletar Aviation Services (SSAS) as well as our joint venture company with Plaza Premium Group (PPG)- SATS PPG Singapore.
Mr. Chi holds a Master's degree in Business Administration from Leicester University and graduated as a Public Services Scholar from the National University of Malaysia (UKM).