Sustainability - A Long-Term Game Plan
Hong Kong Air Cargo Terminals Limited (Hactl) – the largest independent handler at the world's top air cargo hub – has felt a strong duty for many years to operate in a sustainable manner. Our Green Terminal initiative, launched in 2018, formalised our existing policies and actions, and assisted in the creation of the sustainability agenda which is now a fundamental principle of our business.
Many people consider sustainability as relating only to environmental protection measures, and these certainly continue to feature strongly in Hactl's business – with many steps taken to reduce energy consumption, switch to renewable sources, and reduce our carbon footprint. We share the goal of Airport Authority Hong Kong to achieve net zero by 2050, and our just-announced 6-year contract to purchase Renewable Energy Certificates – the first in Hong Kong's aviation sector – is the most recent example, following our installation of a major rooftop solar farm, and our office renovation project, which has attained Platinum rating in the BEAM Plus Interiors V1.0 Scheme by the Hong Kong Green Building Council.
We have also made major strides in recycling, resulting in less material sent to landfill:
– recycling rate of plastics: 99%
– Recycling rate of paper/cardboard: 95%
– Recycling rate of wooden pallets: 60%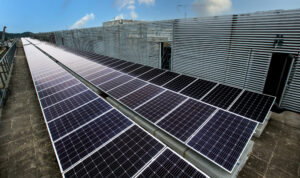 But Hactl also views sustainability as ensuring its business remains financially viable in the long term; we often find that pursuing a green agenda is totally compatible with our financial success. For example, our rooftop solar farm not only reduces our carbon footprint, but also saves a substantial sum in power costs. And our move to mobile computing has revolutionised our ramp handling business, cutting paper waste and ramp towing distances, improving service levels, reducing emissions, cutting fuel and maintenance costs, and making us more agile, efficient and productive.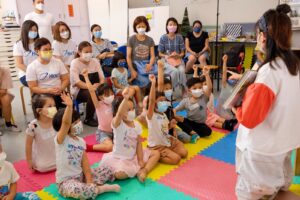 Another vitally important area of Hactl business sustainability is preserving the enormous wealth of knowledge and experience of retiring staff, and passing this on to younger colleagues. This is especially important in areas such as the maintenance of our vast, sophisticated, automated handling systems which are at the core of our mission-critical operations. Much of this equipment is unique to Hactl, and decades-long hands-on experience of maintaining and repairing it cannot be lost. We have therefore launched a company-wide Knowledge Management Initiative – to capture this rich information resource in a series of videos, archived on a web-server. They can be easily located and downloaded by staff, and viewed on any device.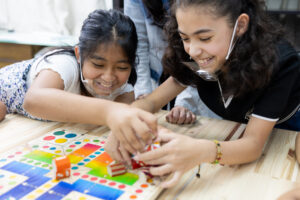 Finally, sustainability for Hactl also means supporting the local community; this is both an altruistic ambition, and a pragmatic one. One example of this policy at work is our current collaboration with local charity TOUCH – Support Service Centre for Ethnic Minorities, to whom we have gifted sets of hand-crafted "aeroplane chess" for use by their younger visitors, along with sets of attractive upcycled tables and chairs, all made from disused wooden pallets from SuperTerminal 1.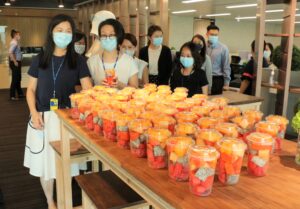 There have been many other recent examples of Hactl supporting local good causes: collaborating with Hello Cocoa (a social enterprise that provides employment opportunities for young people with special educational needs) to produce handmade chocolates in gift boxes for staff; providing staff with fruit cups prepared by FruitsMaMa (a social enterprise that empowers housewives from underprivileged families); including tea from FairTaste (which promotes fair trade) and traditional mooncakes (handmade by Mustard Seed Bakery, a social enterprise), in a Mid-Autumn Festival gift box to staff and customers, with packaging illustrations created by children from underprivileged families and boxes that can be re-purposed as a light; and collecting and donating children's picture books and storybooks, for underprivileged local children.
Through all these initiatives, Hactl is helping create jobs and training opportunities for the underprivileged and ethnic minorities, and providing other forms of support, so contributing to a more inclusive society. Hactl has been presented with the "Social Enterprise Supporter Plus Award 2021" by non-profit organisation, the Fullness Social Enterprises Society, in recognition of its support for ethical consumption and social enterprises in Hong Kong.
Hactl's many sustainable policies, actions and achievements are documented in its Sustainability Report (https://sustainability.hactl.com/). This recognises the phenomenal enthusiasm and hard work of our staff, and may inspire others to make their businesses more sustainable.